'The Artist Is Present' is a remarkable and powerful art documentary by Matthew Aker about Marina Abramović, described in the film as the godmother of Performance Art.
It centres on the eponymous event she staged at MOMA in New York when, from March 14th to May 31st 2010, eight hours a day, she sat in a gallery in front of a table with an empty chair facing her on the other side. A total of 736 hours.
One by one, members of the public came and sat in the empty chair for as long as they wished and stared into her eyes. No conversation or physical contact was allowed. Later in the show, the table was removed and so there was no physical barrier between her and the sitter.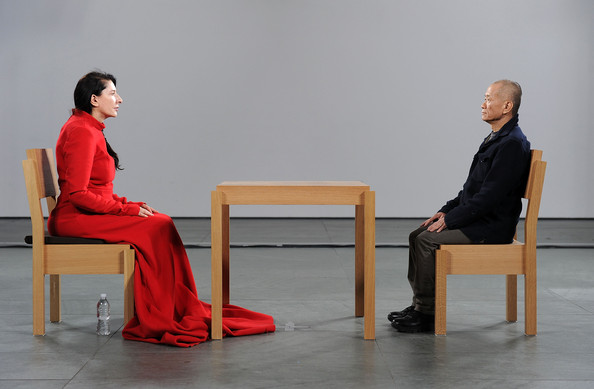 Marina, born in Belgrade in 1946, was brought up by freedom fighter parents. It was a tough regime – her mother rarely showed her any affection – and the steely qualities that were instilled in her somehow carried her through this most gruelling experience of her artistic life.
It's all about The Gaze – and the film gives us a sense of how powerful that is. Person after person have tears running down their cheeks. The intensity and compassion in those eyes are mesmerising – as if she is giving you her love but also staring deep into your soul and your secrets.
Interweaved with this remarkable performance is the fascinating story of her life and times and her ground-breaking series of performance art pieces, most of them very physical and highly controversial. The show at MOMA reprised her entire oeuvre and five of her previous pieces were restaged using young performers that we see Marina training at an artistic boot camp.
For many years she had a star-struck partnership with a Dutchman Ulay Laysiepen – their last piece together was when they walked the Great Wall of China from opposite ends, meeting in the middle. Having not seen each other for many years, the film shows us their touching reunion.
There is a tendency to consider Performance Art as a bit flaky perhaps. 'The Artist Is Present' demonstrates that, in the right hands, it has a power and majesty that deserves respect. This film may not change your life but it will fill your mind and soul with inspiration and searching questions.
A lecture for women only the South Bank Centre in London as part of Antony Hegarty's Meltdown Festival in August 2012. Abramovic is currently developing the Institute of Long Durational Performing Arts in Hudson NY.