Life coincides and all you have to do sometimes is follow the connections. So a week and half ago I took to my bed for three days whilst fighting some bug or other - lots of sneezing fits - but fortunately I had a radio and two books to take my mind off things.
At night the radio was following the Republican and Democratic election trails across America and so, in-between reading I'd switch on and listen to the latest news - most memorably on the night of March 11th when Donald Trump's roadshow hit Chicago and Chicago hit back with protests and demonstrations - the first big protests against his vile rhetoric. Of course it reminded me of Chicago 1968 when Mayor Daley let loose his brutal attack police with their tear gas, guns and clubs. And Steinbeck was on the road, searching for the America he loved but finding much that had been swept away.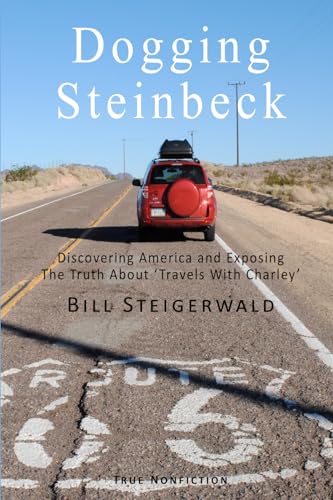 John Steinbeck's 'Travels With Charley' is a very warm book, which is exactly what you need when you're feeling a bit low. Charley is his big poodle of French extraction with a weak bladder. Steinbeck drove a three-quarter ton pick-up truck (which he named Rocinante after Don Quixote's horse), that was customised to his requirements so he could sleep, drink and cook outback and welcome chatty guests who he might meet along the road.
As an armchair traveller, following his observations, thoughts and conversations as he covers thousands of miles and hundreds of contrasting landscapes, its an absorbing and thought-provoking tale. It was 1960, Steinbeck was 56 and not in the best of health. His wife Elaine was worried about him setting out on his own. He suffers homesickness on his trip and as the book progresses beyond a certain point, one definitely gets the feeling that all is not well.
Steinbeck admits he can't take in any more. He has driven from Sag Harbour at the tip of Long Island, up to Maine, into Canada, across the top of America to Oregon, then down the California coast to Salinas - his home town and territory - where he meets a few old friends (many are dead) and feels himself to be a ghost a place he once knew so well.
From here, he drives at speed over the Mojave Desert to Texas where he meets up with Elaine (his wife was a Texan gal). Separated again, he heads for New Orleans and the South before arriving back in New York. A hero's journey.
Fifty years later, three people (maybe more) decide to retrace his journey. Geert Mak, a Dutch historian and journalist of note, who'd made many trips to the US before, sets out to follows his tracks, in a Jeep with his wife in the cab for companionship.
Steinbeck mainly slept in his truck but the Maks eschew that and bunk down in a range of dilapidated truckstops, lodging houses and hotels. In his 500pp+ book, Mak meticulously accounts for the meals they ate, the sights they saw. They walk round dusty towns, once throbbing with life, now abandoned. There's a dramatic chapter on the post-apocalyptic landscape of Detroit which sticks in the mind.
The details of the journey and the constant references backwards and forwards to Steinbeck's original trip make great reading but this is two books in one. With his historian's hat on, Mak tells us the history of America. I am embarrassed by how little I knew of it. It's a great education.
Mak is also carrying with him a library of other journalists and writers, most importantly John Gunther, whose meticulous accounts provide yet another level of thought and observation about the vast American landscape and culture.
Flipping from this book to listening to Trump and Clinton, the echoes from
America's past flicker in one's mind. Take this powerful quote from Molly Ivins (now deceased) who Mak interviews in Texas. He describes her as 'a witty and astute columnist' for the Texas Observer and the Dallas Times Herald. They'd met before on a previous trip. He writes:
'I once interviewed her about the Bush family. I can see us now, sitting on a bench outdoors in Austin, laughing away. But I also remember she suddenly became serious:
"Never, never underestimate the Republican machine, never underestimate their political skills, their immense network, the campaigning techniques, their capacity to pull off the most improbable tricks. You laugh at their show, not believing for a moment that people like that could ever run the world. Well, forget that. Don't underestimate them."
It's clear to Mak that Steinbeck's original account is, to a certain extent, fictionalised. From the original book one gets the impression that Steinbeck was trying to stick to driving on back roads ( avoiding stretches of the new freeways, still being built at that time) and always stopping off at little towns (avoiding the cities). In fact, for much of his journey, Steinbeck was driving at least a couple of hundred miles a day, as he realises the sheer distances he has taken on and as his homesickness asserts itself.
But shadowing Mak's efforts is a much more hard-core traveller journalist Bill Steigerwald, who is travelling in a truck on his own, sleeping in the truck for the whole of his journey, and tracking down in forensic detail every move that Steinbeck made. The clue to his book is in the title: 'Dogging Steinbeck: How I Went in Search of John Steinbeck's America, Found My Own America, and Exposed the Truth about 'Travels with Charley'.
In an article entitled 'Sorry, Charley:
Was John Steinbeck's Travels With Charley a fraud?' , first published on the Reason.com website in April 2011, he pulled no punches.
After nine months of fact checking and 11,276 miles of drive-by journalism, I can tell you for sure that:
• Steinbeck was almost never alone on his trip. Out of 75 days away from New York, he travelled with, stayed with, and slept with his beloved wife, Elaine, on 45 days. On 17 other days he stayed at motels and busy truck stops and trailer courts, or parked his camper on the property of friends.
• Steinbeck didn't rough it. With Elaine he stayed at some of the country's top hotels, motels, and resorts, not to mention two weeks at the Steinbeck family cottage in Pacific Grove, California, and a week at a Texas cattle ranch for millionaires. By himself, as he admits in Charley, he often stayed in luxurious motels.
'From what I can gather, Steinbeck didn't fictionalize in the guise of non-fiction because he wanted to mislead readers or grind some political point. He was desperate. He had a book to make up about a failed road trip, and he had taken virtually no notes...At crunch time, as he struggled to write Charley, his journalistic failures forced him to be a novelist again. Then his publisher, The Viking Press, marketed the book as nonfiction, and the gullible reviewers of the day—from The New York Times to The Atlantic—bought every word.'
Steigerwald concedes that the book is, in many ways, 'still a wonderful, quirky, and entertaining book...That's why it's an American classic and still popular around the world.' But - and its a big but - he says 'there's no denying Steinbeck got away with writing a dishonest book.'
'Not only did he fudge the details of his road trip, but he pulled his punches about what he really thought about the America he found. In Charley he fretted about the things he didn't like about American society: pollution, early signs of sprawl, the rise of national chains, the increasing prevalence of plastic. But in private he complained directly about the failings of his 180 million fellow Americans: They were materialistic, morally flabby, and headed down the road to national decline.
'If Steinbeck sounds like a liberal who'd been living like a prince in New York City too long, it's because that's what he was. Fifty-eight and in poor health when he set out on his ambitious voyage of discovery, he quickly ran aground on his own loneliness and the realization that our "monster land" was too big and too complex for one man to understand.'
Finally, we come to the third traveller in Steinbeck's tyre tracks: Rachel Dry who drove from Vermont to Fargo, the geographical centre of America, with her mother as companion, and wrote a long piece for The Washington Post [November 12, 2010] called 'Following Steinbeck to Fargo'.
'Journalist Bill Steigerwald has caught John Steinbeck in a lie. The Nobel laureate, according to Steigerwald, probably invented characters and embellished the hardships of the cross-country journey he made with his dog, Charley, in the fall of 1960, chronicled in his bestseller "Travels With Charley."

I am a Steinbeck fan, and I happen also to have once been caught in a lie by Steigerwald — a lie linked to Steinbeck and his journey. This is a small part of the reason that...I think it doesn't matter.'
'Steinbeck showed us postwar America as it looked from the window of his green GMC truck, custom-fitted with a camper. He may not have slept in the camper much (one of Steigerwald's main contentions) or been alone with only a poodle for companionship (Steigerwald found that his wife was with him for a lot of the trip), but he gave us something we wouldn't have otherwise. He showed us the country in a rich, kaleidoscopic view: one nation that included Swiss-cheese candy in Wisconsin, a New Yorker-reading aspiring hairdresser near the continental divide and the ugly invective that came with integration in New Orleans.'
In case you miss the much appreciated Comment below, received shortly after posting, from Bill Steigerwald
:
Thanks to John May for the links and the nice things he said about me and my book, Dogging Steinbeck. But for the record, as we journalists like to say, it was I and not Geert Mak who first blew the whistle on Steinbeck's heavy fictionalizing and his dishonest account of his travels. Mak is a wonderful Dutchman, a great journalist/author and a historian who puts all us native history majors to shame. But he will be the first to acknowledge, as he so kindly and honestly did in his book, that he was tipped off by me about the many small and large fictions and fact-fudges in "Charley." As he and the Missus were traveling, he read the road blog that I was writing for the Pittsburgh Post-Gazette in the fall of 2010 as I followed Steinbeck's 1960 route. I was days and then weeks ahead of the Maks, who had a more leisurely but more expensive road trip. less . (Also for the record: Steinbeck was 58 when he made his trip and I drove, alone, a Toyota RAV4, which I slept in about 20 nights.)
PREVIOUS POSTS:
If you enjoyed this you might like my two posts on Truman Capote's 'In Cold Blood', widely claimed as the first non-fiction novel.As time has gone by, its clear that the book has more fiction in it than fact.