What sort of future does the guitar have in modern music? This was touched on in the previous post about the decline and changing nature of the music business but also triggered by this article in the New York Times about Fender Musical Instruments' struggle to survive. THE GENERALIST set out to explore this question and made some interesting discoveries along the way.
BALI GUITARS
This Bali wood-worker Wayan Tuges was approached by Montreal businessman and musician Danny Forfender who was looking for a craftsman to produce ornate guitars in Bali – an instrument that had never been part of the Balinese music tradition. The result is that Tuges now has a worldwide collector's market for his custom-made guitars, the most expensive of which sell for almost $9,000 dollars. See: Full story and slideshow on the Wall Street Journal site.
STEAMPUNKED GUITARS
See: Great article and visual round-up in 'Sexy As Sin' on WebURbanist
Ebony has always been an important tone wood in the making of guitars and other instruments. Bob Taylor, co-founder of Taylor Guitars explains that supplies of ebony have been exhausted and the only country left with a substantial ebony forest is Cameroon. So concerned was he about the situation that he bought Cameroon's biggest ebony mill and now effectively runs the ebony business in the country. Its a remarkable story. Bob's presentation is a bit folksy but hats off to the man.
See also: 'Taylor Guitars Buys Ebony Mill' in Los Angeles Times (2012)
SUPER GUITARS: 11 AXES OF THE FUTURE: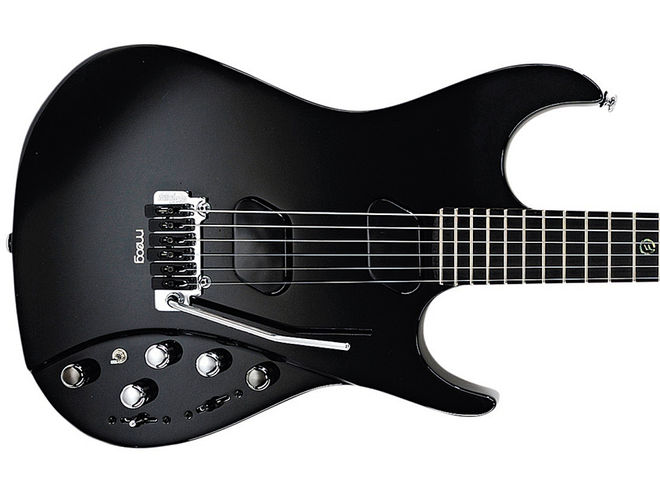 Moog E1 (£2899)
'In an industry obsessed with the design and tonal benchmarks set by the big guns in the 1950s and 1960s, some of the futuristic instruments we've selected have had a tough time finding acceptance. But with contemporary guitar heroes like Muse's Matt Bellamy latching on to the sonic potential of onboard effects, will a day come when the Fender Stratocaster and Gibson Les Paul are as outmoded as the Model-T Ford.'
See: Tom Porter on Music Rader (October 2010). Complete slideshow.
ATOM 3 printed guitar: See: OD Guitars
3-D Guitars; The Way of the Future
'In the competitive market place that is electric guitars you'd be hard pressed to find anyone who plays guitar who hasn't heard the names Fender or Gibson. They are both big name American guitar manufacturers who hold a strong footprint on the market share worldwide. But one man based in Auckland, New Zealand believes he has the formula to perhaps not compete for market share on the same scale with those two giants but to at the very least be a point of difference and stand out from the crowd.
'Meet Olaf Diegel, Olaf is a University professor of Mechatronics at Massey University and has been delving into the world of 3D printing. This process is essentially taking a 3D computer model of a product then slicing it into very thin pieces. The printing machine then prints and layers each piece one on top of the other until the product is finished. Mr Diegel who also has a passion for music and has played in many rock bands over the years …came up with an idea to manufacture 3D guitar bodies and start his own business.'
See: Full story by Peter Freeman on Ultimate Guitar (2012)
See also: You Rawk! 3D Rapid Prototyping Acoustic Instruments of the Future' by Josh Mings on SolidSmack
The Guitar of the Future
CNET Asia posted photos of this purely conceptual Hyper Touch Guitar. This multitouch is a mock up from Italian product designer Max Battaglia and is not a reality - yet. I personally am fascinated by synth guitars, but am in no rush to replace good old analog strings anytime soon. Source: Shred That Axe
OPINIONS & DEBATE
'Is Guitar Music on the Way Out': Are guitars becoming a thing of the past as dance and rap acts become more popular? Guardian readers share their thoughts. (2012)
'Music Continues to Evolve With the Help of New Technology' by Duncan McHenry (Oct 2012) on kansas.com
'The electric guitar, of course, which has been a leading part of popular music since the '50s. The innovation of putting transducer pickups on a piece of wood to capture electronic sound is an early example of modern technology's constantly evolving role in musical creation.
'New technology will always influence the sound of pop music for the same reason that I'm typing this article on a MacBook instead of a typewriter. But the demand for talented musicians isn't going away anytime soon. Video may have killed the radio star, but as Jimi Hendrix said: "That's all right, I still got my guitar."
'Label boss is 'concerned' over future of guitar music' BBC Newsbeat (2012)
Concerns have been raised about the future of guitar music with one of the UK's top record company bosses saying labels are "scared" to sign new bands. Jim Chancellor, managing director of Fiction Records, says his competitors are taking on less rock music "because not much of it is succeeding".He admitted guitar music needed a "shot in the arm" and that opportunities to promote bands in the media are limited. Chancellor has signed bands including Snow Patrol, Elbow and White Lies.