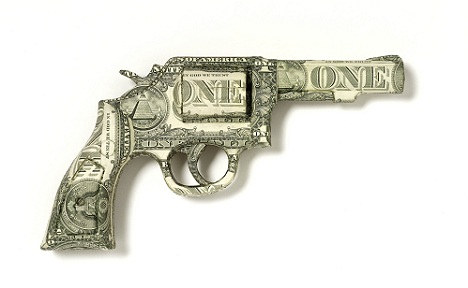 'Judgement' by Justine Smith. A pistol constructed of dollar bills
The Map of My Entire Life by Rob Ryan
THE FIRST CUT is an exhibition of 31 paper cutting artists, which is on show at Manchester Art Gallery until January.
See also: www.creativetourist.com/featured/paper-cutting-artists-at-manchester-art-gallery
PAPER ARCHITECTS
Ingrid Siliakus is a Dutch paper architect. Paper Architecture is the art of creating an object out of a single piece of paper. She discovered this art by seeing the work of Prof. Masahiro Chatani, a Japanese architect and professor that developed Paper Architecture in the early 1980′s. See more at Dsignarium
Castle on the Ocean was created by Wataru Ito, an origami artist from Japan, who spent four years creating it. This model city is 2.4 meter by 1.8 meter by 1 meter high. It was displayed in 2009 at an exhibition on the artificial island of Umihotaru, near Tokyo. Japan. News reports of the time said that Ito was planning to set fire to it when the exhibition was over. See other extraordinary paper creations on www.chaca.com
PAPER ARCHITECT SHIGERU BAN
Shigeru Ban is a Japanese architect most famous for his innovative work with paper particularly recycled cardboard paper tubes used to quickly and efficiently house disaster victims.
This community center was built by church volunteers whose house of worship was destroyed by Kobe earthquake in 1995. Materials were donated by a number of companies, and construction was completed in only five weeks by the 160 volunteers. This church was disassembled in June 2005 and all the materials were sent to a city in Taiwan.
This is an artist's impression of the cardboard cathedral that Shigeru Ban plans to build in Christchurch, New Zealand to replace temporarily the Cathedral which was severely damaged in the 2011 earthquake and is being controversially demolished. It would hold 700 people and was due for completion by February 2013.
Latest news, courtesy of www.stuff.co.nz is that 'Funding for a planned cardboard cathedral could be in jeopardy after a judge ruled that Christ Church Cathedral insurance money could not be used for the project. Anglican leaders had planned to use NZ $4 million of insurance money from Christ Church Cathedral to fund the NZ $5.3m transitional project. But Justice Chisholm ruled on Thursday that the insurance money could be used only for a project on the original Cathedral Square site.
See more of Shigoru Ban's Paper Tube structures here
See also: 'Are Cardboard Buildings The Future' by Steve Rose
IN PRAISE OF PAPER MAPS
Swiss Topographical map of Grindelwald from the 1930s.
'When was the last time you held a paper map? I don't just mean a map printed on paper, I mean one that was designed to be viewed on paper in the first place. The London A to Z would count, so would those in a printed atlas or obtained from a tourist office to navigate an unfamiliar city. Of the hundreds of maps I see each year, I would guess that less than 10% have been designed for printing. This to me is a great shame for a few reasons. Firstly, paper is just better in many circumstances. It is by far the most reliable means of storing navigation information: it doesn't need batteries or an internet connection (you could say the maps are pre-cached) and you can drop it in a puddle and it will still work. It also offers a nice sized and efficient visual interface- street corners seem to be increasingly populated with those squinting into their phone. If you spot someone with an A-Z they tend to have a quick look at the map and then start looking around to get their bearings.' See full story at Spatial Analysis.